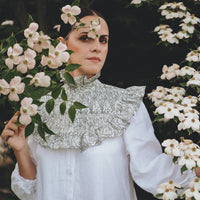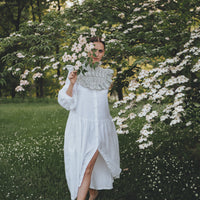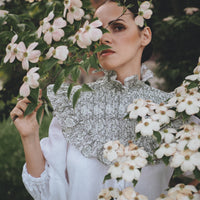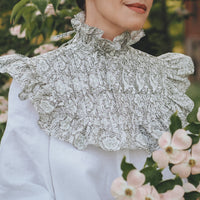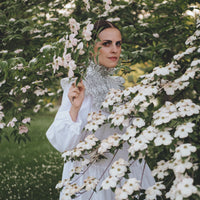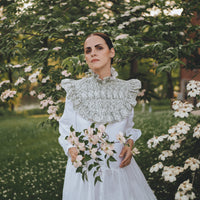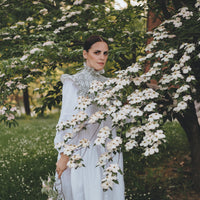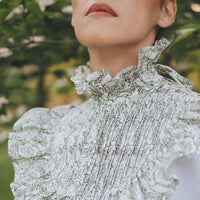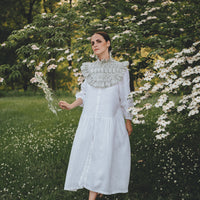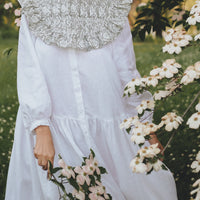 Description
The Anais Collar is the hand-pleated sister to the darling Grace Collar. With just a few slight differences seen on the bodice and neckline ruffles, this piece will elevate any outfit in a very harmonious & feminine way. And its floral fabric never fails to enchant.
Bespoke accessory, meticulously sewn from the renowned Liberty London fabric. There is only one piece in the given design, fabric and color.
Each collar is carefully cut and constructed by hand using elaborate, time-consuming tailoring techniques.

Liberty London 100% cotton poplin.  
Hand-crafted with love in Romania, Europe.
FABRIC
The collar fabric is truly unmatched. The collars are cut from the renowned Liberty London premium 100% cotton Tana Lawn. The fabric has the touch and feel of ultra-fine silk but is breathable, soft yet durable, cooling in the summer and warming in the winter. Printed in northern Italy.

SIZE & FIT

Circumference: 14in / 36cm
Width: 18.5in / 46cm
Length: 8.5in/ 22cm
DETAILS & CARE
• Detachable with a self-tie in the back
• Hand wash 40°c, line dry
• Cotton dust bag included
NON-U.S. DUTIES
Sometimes, non-U.S. customers are charged tax or customs duty by their own country. Unfortunately this is entirely outside of our control, and is not our responsibility. 
"FLORAL NOSTALGIA"
Between the memorable past times and these modern rushed days I propose a slowed down taken moment to enjoy all the little things & details that are left to enchant us, one season by the time.
Live colorfully ever after...
V.P